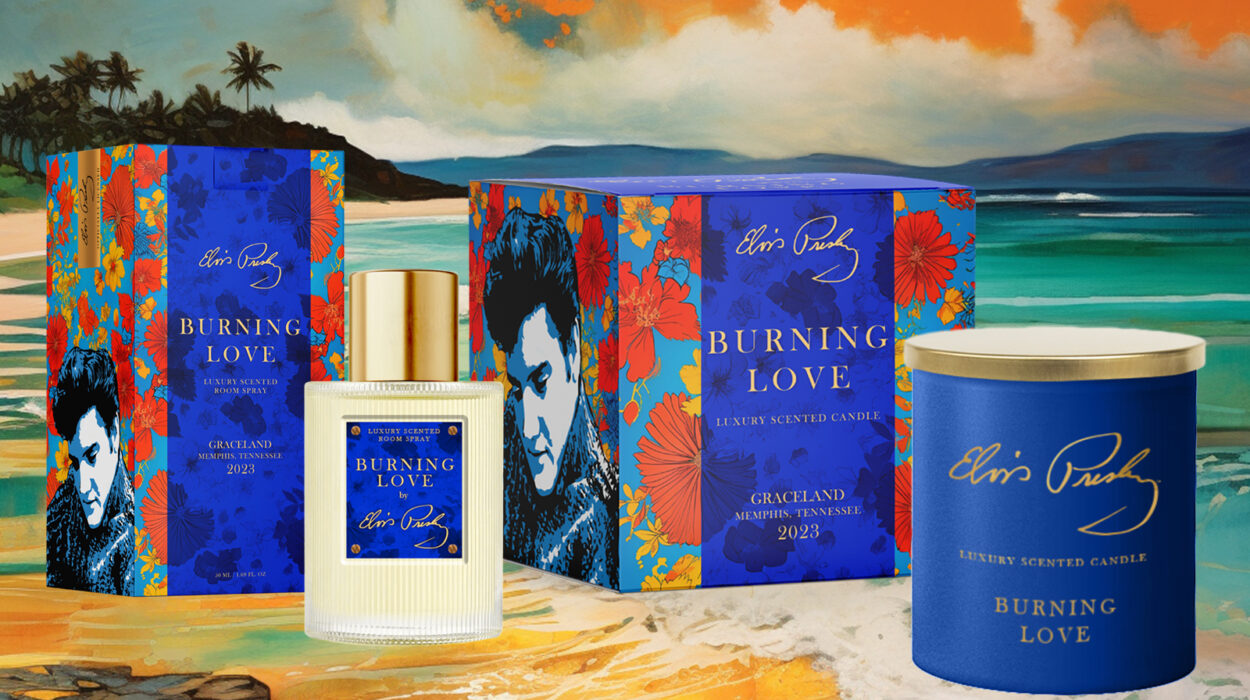 Officially Licensed Elvis Presley Home Fragrance Collections
Pre-Order Burning Love and Jungle Room Collections Now!
Graceland estate, one of the most iconic and historic homes in the U.S., second only to the White House, was always home base – a constant in the life of Elvis. This first-of-its-kind Graceland luxurious home fragrance collection is inspired by the "King of Rock and Roll's" life. Every piece is a statement piece designed to add the same element of surprise and wonder we find in fine art or a classical masterpiece.
 BURNING LOVE  COLLECTION – Pre-Order Now! click this link
A magical bridge between scent and memory, the BURNING LOVE fragrance invokes a compelling bond between Elvis and his special love for Hawaii where his 1973 iconic special, "Aloha from Hawaii," was the first entertainment special by a solo artist to be broadcast live worldwide.
 Scent notes: soft jasmine, heliotropes, sparkling bergamot leading into heart notes of carnations and rose, finishing with a soft amber musk.
 JUNGLE ROOM COLLECTION – Pre-Order Now! click this link
Prepare to be transported with a fragrance inspired by Graceland's inner sanctum. Elvis's den—popularly known as the JUNGLE ROOM, is replete with lush greens, spicy suede notes, and tropical florals. This is an aromatic ode and interior style statement for adventurous movers and shakers who favor hedonistic scents and hypnotic beats.
 Scent notes: sea greens, citrus, wild sage, crisp air, jasmine, linden flower, cedar leaf, white driftwood, and soft musk.
 GLORY COLLECTION – Pre-Order Oct 21, 2023!
The emotional rendition of An American Trilogy, with its soaring chorus, "Glory, Glory Hallelujah …His truth is marching on," became a spiritual showstopper and Elvis's go-to anthem to close out hundreds of concerts. Immortalizing Elvis' love for life and his faith in a higher power, the GLORY fragrance is a humble, yet powerful hymn composed of ethereal heart notes honoring "The King's" heavenly voice.
 TUPELO – Pre-Order Oct 21, 2023!
From head to toe, Elvis proudly wore his favorite color, pink, for his pinnacle 1955 photoshoot. That bold spirit carried him from a tiny two-room house in Tupelo, Mississippi, to the Graceland estate—and into the hearts of fans worldwide. TUPELO fragrance celebrates the man who was anything but muted. It's a very personal statement of owning your surroundings.
*ELVIS™ and ELVIS PRESLEY™ are trademarks of ABG EPE IP LLC Rights of Publicity and Persona Rights: Elvis Presley Enterprises, LLC © 2023 ABG EPE IP LLC. Actual final product pending licensor approval.